Chorley vicar Tim Wilby invites passersby to ask him 'anything'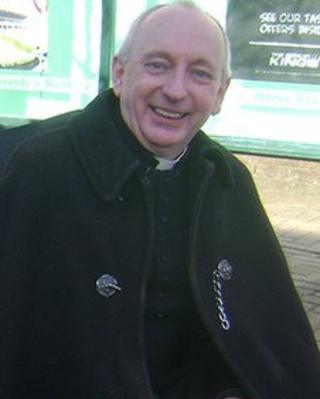 A vicar in Chorley is spending each Tuesday of Lent sitting beside the town centre market with a sign inviting shoppers to "ask me anything."
The Reverend Tim Wilby wants passersby to engage in conversation with him about any topic each Tuesday lunchtime.
He can be found sitting on a garden chair on Fazackerley Street.
"What I felt called to do during Lent - as the vicar of the town centre - was to be available if people wanted to come and ask me anything," he said.
Mr Wilby, who is also Area Dean of Chorley, wants people to realise his church is part of the community.
He said: "Where we are sitting you can see the tower of St George's town centre church. It's a fine place, but people aren't always aware of its presence in the community. So, for Lent, I want to make sure people realise the church is active and alive."
He says it is also about the church listening to the people.
'Friendly approach'
"Sometimes people associate the church with standing on the street corner, waving a bible at everyone and telling them they are damned. Actually, the gospel is about God's love and I want to be a messenger with God's love on market day," he said.
Shoppers have stopped to ask Mr Wilby about church services, funeral arrangements and there is no shortage of those asking him if he wants a brew.
"Perhaps the best question I was asked is 'are you a real vicar?' to which I had to reply 'yes'."
Taking to the town centre streets holds no fear.
"I wondered what it would be like and a lot of people said you will need to wear a stab vest under your cloak, which I thought was taking it a bit far, but I haven't had any expressions of dismay that I am here," he said.
"Sometimes people talk about how the church can feel marginalised. Certainly, where we are here, I feel I am surrounded by people who have a very friendly approach to the work of the church in the community."
Joe Wilson presents the faith programme on BBC Radio Lancashire from 06:00 each Sunday.