Blackpool Promenade improvements after safety fears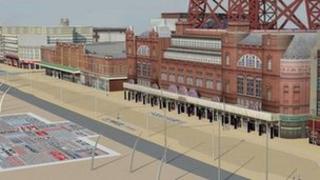 Changes are to be made to the newly revamped Blackpool promenade after safety concerns from disability groups.
The £100m regeneration of the promenade has seen improved tram tracks and sea defences but disabled people claim their safety has been put at risk.
After an audit by planning experts there will now be changes including a clear designation of pedestrian and driving spaces.
Blackpool Borough Council said it had listened to the concerns raised.
Councillor Fred Jackson, cabinet member for streets and transport, said: "The Promenade already looks great, now with these changes we can make sure that it works just as well.
"After it opened last summer, some residents told us that they had concerns about safety and transport issues.
"What we have done is listen to residents' feedback and act on it, making sure that the Promenade works as safely and as efficiently as it can for all pedestrians and drivers."
Alan Reid, chair of the Blackpool Disability Partnership, said: "Blackpool has one of the highest percentages of disabled residents and visitors, so changes needed to be made in order to make sure that Promenade was usable for everybody.
"We're very happy with the consultation which has taken place between the Council and ourselves and having these changes made is the best possible outcome."
Other changes will make it easier for pedestrians to cross between Blackpool Tower and the Comedy Carpet and 20mph speed limit signs.