Graham Liver's Preston pedal for Sport Relief: Terms & Conditions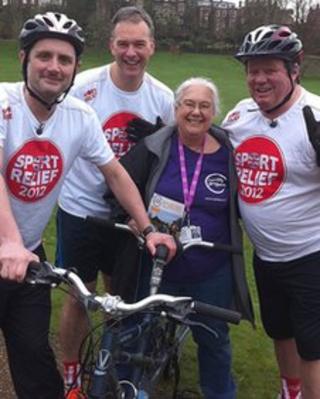 BBC Radio Lancashire and North West Tonight presenter Graham Liver is getting on his bike again this time for Sport Relief.
He's cycling from the Olympic Stadium in London to Preston from 19 - 23 March but for his latest attempt, he's getting a little help from his friends as he rides a tandem.
Every morning he will present his breakfast show then get on the bike with a different friend.
Listen to BBC Radio Lancashire to find out who will be joining Graham and North West Tonight will cover his journey.
You will also hear from organisations that have benefitted from Sport Relief money. It is going to be a long journey, please help Graham on his way and give what you can.
Graham Liver's Sport Relief Giving Page
TERMS & CONDITIONS
£1 Text donations - Terms and Conditions - BIKE (70011)
1. You can donate to Sport Relief by texting the word "BIKE" to 70011. Your support will result in a £1 donation to Sport Relief for each text message that you send. Please note that in addition to the £1 donation, you will incur your standard network message charge (based on your service provider rates). Please note that you can only donate from a UK mobile and cannot use this service from a Channel Islands or Isle of Man mobile. If you donate using this service from a UK mobile abroad you may incur additional network charges.
2. The mobile network operators below have waived their charges in order to allow the full £1 cost of the reply message (described below) to go entirely to support Sport Relief
• 3
• O2
• Orange
• T-Mobile
• Virgin
• Vodafone.
In addition, HM Treasury have confirmed that no VAT should be charged on these donations
3. You can send a text message between 00:01 on 20th February 2012 and 23:59 on 30th April 2012.
4. Please ensure you spell the keyword "BIKE" carefully and send your text message to the correct short code 70011.
5. If your keyword and short code are valid, and your text message is received within the specified times and dates, you will be charged £1 via a reply message, with the exception of Vodafone customers who will be charged directly via their bill. It may take some time for you to receive a reply message. Please wait until you receive it. Any repeat texts will result in repeat donations. You can donate up to 30 times (£30) in a 24 hour period (midnight to midnight), any messages sent within the 24 hour period that exceed the £30 limit will be charged at your standard network rate only and will not result in a further £1 donation.
6. If your keyword or short code are invalid, or your text message is received outside the specified times and dates, you may not receive a reply but may still be charged your standard network message charge. You will not be charged the £1 donation as you will not be donating to Sport Relief.
7. All supporters must obtain permission from the bill payer before sending a text message. If you are under 16 years old, you must have your parent or guardian's permission to send a text donation to us.
8. If you would like to contribute more cash to Sport Relief, you can donate online through the following website: www.sportrelief.com/donate. All donations to Sport Relief, including the donation from the £1 text are non-refundable.
9. Sport Relief, the BBC, Harvest Media Group Limited and their sub-contractors, subsidiaries and/or agencies cannot accept any responsibility whatsoever for any technical failure or malfunction or any other problem with any telephone network or line, system, server, provider or otherwise which may result in any text being lost or not properly received.
10. The SMS service is provided by Mobile Interactive Group Limited. If you have any queries regarding the service, please contact MIG at the following e-mail address: customercare@migcan.com or write to Mobile Interactive Group Limited, The Tower Building, 7th Floor, 11 York Road, London, SE1 7NX or call on the following Helpline Number 0870 248 0277 (Monday to Friday 9:00 - 17:30). Calls cost up to 8p/min from most landlines (an additional connection fee may also apply). Calls from mobiles may cost considerably more.
11. Sport Relief is an initiative of Comic Relief, registered charity number 326568 (England & Wales) and SC039730 (Scotland). To get involved with Sport Relief in different ways, go to www.sportrelief.com.