Morecambe Bay NHS Trust at 'beginning of new start'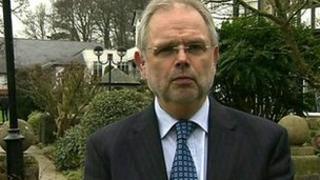 The new chair of a troubled NHS trust has said its problems have been down to "the level of disengagement between the clinical staff and the managers".
University Hospitals of Morecambe Bay NHS Foundation Trust has faced critical reports from the CQC and Monitor.
The former chair, Professor Eddie Kane, and chief executive Tony Halsall have resigned in the past four months.
New chair Sir David Henshaw said the trust was now at "the beginning of a new start".
After Mr Halsall resigned in February, the trust revealed a "comprehensive recovery plan" to make long-term changes to its hospitals.
Deaths at the baby unit at Furness General Hospital, in Barrow, Cumbria, are being investigated by detectives and health regulators have criticised standards at Royal Lancaster Infirmary's A&E unit.
Mr Henshaw said that while "some of the things that have happened are frankly unacceptable... a lot of what we do is being done very well".
'Good service'
He said staff commitment was "very high" and that a number of changes were being made to processes and services to ensure the trust improved in its performance.
"We have to support the patients we serve and we need at all times to remember that that's the only reason we are here," he said.
"The NHS is a great institution and is providing good service here, but we have a number of issues to attend to.
"The biggest problem here has been the level of disengagement between the clinical staff and the managers.
"All my experience says that you have to bring those people together to act together and lead together to get these hospitals to work."
He added that he believed "most of the ideas to solve the problems are already here in the heads of the staff that we employ" and that steps were being taken to ensure staff could make suggestions.