Events mark 400th anniversary of Pendle witch trials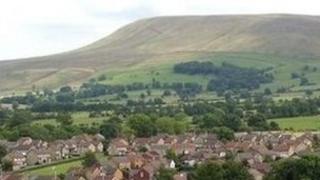 The 400th anniversary of the Lancashire witch trials will be marked by a series of 40 events, it has been announced.
The two-day trials in 1612 led to 10 people being hanged at Gallows Hill in Lancaster, after being found guilty of causing death or harm by witchcraft.
Commemorative activities include the launch of a sculpture trail in the woods near the village of Barley.
There will also be guided tours at Lancaster Castle, where the accused were imprisoned.
The programme of events starts on 18 March with a guided walk.
Mike Williams, Pendle's tourism officer, said it was "a significant date".
"Four hundred years ago it was the day when one of the so-called Pendle Witches, Alizon Device, is thought to have bewitched a pedlar, with the help of a familiar," he said.
"Our walk follows the events of that fateful day."
The pedlar collapsed and his son reported it to an ambitious local magistrate, Roger Nowell.
He interviewed Alizon, who confessed to bewitching the pedlar but also accused her neighbours of bewitching and killing four people.
The two matriarchs of the warring families were summoned to appear before Nowell and gave damaging confessions, saying they had sold their souls.
Based on their evidence and confessions they were sent to Lancaster to be tried.
They were given no counsel or legal advice, and the central prosecution witness was nine years old.
On 20 August 1612, they were hanged in front of large crowds on the moors close to Williamson Park.
Lancaster Castle manager, Colin Penny, said: "The story of the Lancashire witches is a very important and indelible part of the history of Lancashire.
"People come from all over the world specifically to hear the story and to get close to the place where they were imprisoned and the court where they were tried."
Councillor Jonathan Eyre said: "Hundreds of thousands of visitors a year are drawn to Pendle because of this most dramatic episode in our country's history.
"These visitors help boost the local economy and bring in £78m a year, helping to support local jobs and services."