Blackburn Cathedral: Dean's concerns over funding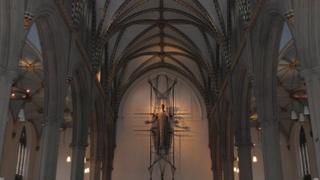 Blackburn Cathedral may have to scale back some of its projects when current funding runs out, the Dean has warned.
"We get quite a lot of money from central church funds, if that dries up we would have to significantly curtail some of our excellent work," he said.
Though there has been a church on the site for 1,000 years, Blackburn is one of England's newest cathedrals, after being established in 1926.
The Very Reverend Christopher Armstrong said it is a "hidden gem".
He was speaking after nearly half of the cathedrals, who responded to a BBC survey, said they were worried about a lack of public donations, heritage and church grants.
The cathedral is currently the centrepiece for the next phase of the town's refurbishment with the development of a cathedral quarter of shops, cloisters and a hotel due to be built close by.
'Sell the story'
Speaking at the launch of the £30m project, the Chief Executive of Blackburn with Darwen Council, Graham Burgess, praised the cathedral's qualities.
He said: "The cathedral gives us a unique offer on this development."
The Dean said the money for the proposed cathedral quarter is safe.
"I don't think that's in jeopardy, we have almost put that to bed," he said. "It's the next phase we would have to be careful about planning."
As well as religious worship, the cathedral is also used for artistic exhibitions, performance art and has a thriving cafe.
Many ethical and faith groups utilise its space to highlight their cause.
Ruth Baker, from Christian Aid, who are currently utilising the cathedral to highlight the plight of the developing world, said blending the charity and a religious building of this magnitude are vital.
"It's a great opportunity in a big location like a cathedral to invite lots of people to come along and to see and be reminded of those who are living in poverty," she said.
The Dean believes that more people in Lancashire would do more to financially assist with the cathedral's work if they knew about it.
He said: "We may be something of a hidden gem. Partly because we are breathless in running everything that is going on and partly because we don't have the ability to employ the kind of network of media resources we should have to sell the story."
Whist the next couple of years are assured for Blackburn Cathedral, the Dean said beyond that is less certain.
"In two years time the Church Commissioners will be doing their sums again and we are bracing ourselves, as is every other cathedral in the land," he said.
Joe Wilson presents the faith programme on BBC Radio Lancashire from 06:00 each Sunday.