Call for research into Lancaster Canal Corridor North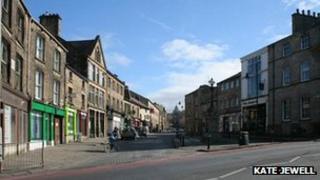 A report into the heritage of Lancaster's Canal Corridor North Area has recommended further research into its "archaeological potential".
The report by The Conservation Studio was commissioned by English Heritage and developer Centros.
A £150m proposal for the area by Centros was rejected following a public inquiry in 2009.
The developer has recently released revised proposals for a £100m development of the city centre.
The report recommends further research into the construction of the Lancaster Canal, the significance of the Heron Chemical Works and "the rarity of the survival" of Swan Court.
'Gaps in knowledge'
It says there should be further consultation to "establish a more definite set of communal values for the area".
The report said: "Further work should be undertaken, before any redevelopment is embarked upon, to give more certainty to the extent of the archaeological potential."
It said its studies had "developed a deeper understanding" of the area but had also "identified gaps in the knowledge, particularly in relation to industrial processes and archaeological potential".
Centros's new plans, which could lead to 750 new jobs, were drawn up in consultation with Lancaster City Council and English Heritage.