Dukes Theatre stages Preston Guild event for young people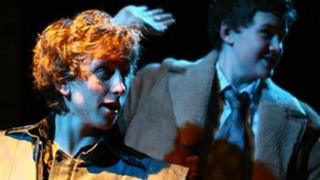 A Lancaster theatre is encouraging young people to get involved in a one-off performance to celebrate the Preston Guild 2012.
Up to 600 people aged 13-19 are expected to take part in workshops for Metropolis, a show including music and acting, produced by The Dukes theatre.
The performance will be staged in front of an audience of 2,000 people at Preston's Guild Hall in September.
Project director Guy Christiansen said it was an "amazing experience".
"We're really proud that The Dukes has been given this opportunity to bring together hundreds of young people," he said.
The project will be developed over the next few months with schools, youth clubs, independent young people's groups and any individuals who want to take part.
Following taster weekends in April and May, 125 young people will be chosen to work as the production team taking on roles including performers, designers, musicians, dancers and technicians.
Held only once every 20 years, Preston Guild is a historic celebration dating back to 1179 when King Henry II granted Preston market town status.
Other highlights of this year's event include the city's first marathon on 28 October and a re-telling of the Passion, a play with 2,000 performers, set around the city and televised on BBC One on Good Friday.