River Darwen uncovered at Shorey Bank after 100 years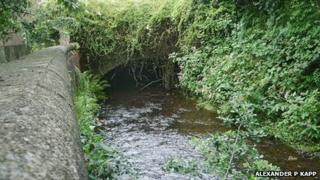 The Environment Agency is uncovering a section of the River Darwen that has been hidden underground for 100 years.
Work to remove the 117m (384ft) culvert, in the Shorey Bank area of the town, has been ongoing since January.
It is part of a project to improve the river and encourage fish and wildlife to flourish.
The rest of project will be completed in April with a new footpath through the wooded area, two new bridges and improved access to the river.
Due to Darwen's industrial past, many sections of the river are covered by culverts - man-made structures used to channel water.
Removing them will allow the river to behave more naturally and reduce the risk of flooding.
Project manager, Tony Callaghan, said: "Our rivers are the healthiest for 20 years, but we are doing even more to further improve water quality and biodiversity.
"This area of Darwen is home to a very rare plant called narrow small reed, which is only found at four sites in England.
"By removing the culvert it will give more space and light for this plant to flourish and will also allow brown trout to travel further up and down the river."