Pontins 'urged to clean water tank' before Legionnaires' death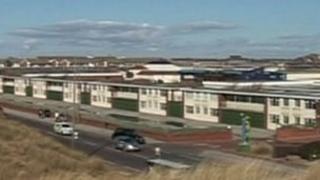 A Lancashire holiday camp was urged to clean a water tank months before a woman died from Legionnaires' Disease, a court has heard.
Karen Taylor, 53, died from the disease after staying at the Pontins Holiday Centre in Lytham St Annes in July 2009.
Preston Crown Court heard an inspection found a water tank which supplied her room was in "a bad condition".
Pontins Ltd, which has since come under new management, denies breaching health and safety laws.
Mrs Taylor had stayed in Chalet 229 at the holiday park with her husband - the same room where another woman had become ill earlier.
Margaret Coote, from Chesterfield, complained of feeling unwell two days after she used the bath in the chalet during a holiday with relatives that March.
She later spent five weeks in hospital after suffering a heart attack and symptoms associated with the disease, but has since recovered.
The jury heard from Kevin Fielding, a water treatment and legionella management contractor, hired by Pontins Ltd to conduct annual risk assessments of the camp's water systems.
'Accumulated sludge'
He said the last inspection before Mrs Coote fell ill took place in December 2008.
It found that the cold water storage tank which supplied water to room 229 was not in full compliance with by-laws governing plumbing systems, the court heard.
Mr Fielding said: "There was a medium degree of accumulated sludge within the tank which may have assisted bacteria."
The report, which Mr Fielding said was handed to senior bosses at the holiday park in January 2009, recommended a thorough disinfectant clean of the tank and a flushing of chlorinated water through the pipes to the chalet to kill any remaining bacteria.
Fylde Council's health and safety enforcement officer, Nicholas Stevens, told the court he carried out plumbing inspections at the holiday camp after he was informed of Mrs Coote's illness.
He said: "The boiler system appeared to be very old fashioned and didn't look maintained to a very high standard.
"It was difficult for (Pontins staff) to obtain water temperatures from the temperature gauge. Some of them were not working properly."
On 30 July a water sample taken from the shower head found a "significantly high" level of legionella bacteria, he added.
Further tests of other plumbing systems throughout the holiday camp found a second strain of legionella present in the showers in the men's and the women's changing rooms at the swimming pool and in the shower in room 703, the court heard.
The Pontins Holiday Centre in Lytham St Annes closed in October 2009 and has since been demolished.
The original Pontins company which was responsible for running the camp went into administration in 2010.
It was purchased in 2011 by Britannia Hotels, which runs five Pontins camps under the original brand name but with new management and regimes.
Pontins Ltd has entered a not guilty plea to accusations of two breaches of the Health and Safety at Work Act 1974, but is not attending the trial at Preston Crown Court and has sent no legal representation.
The case is proceeding in its absence.