Pontins fined £1,000 over 'shocking' holiday death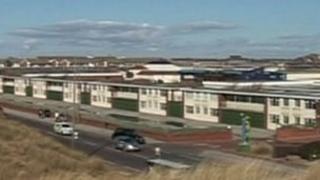 A former holiday company has received a nominal £1,000 fine after the death of a woman who contracted Legionnaires' Disease at one of its holiday parks.
Karen Taylor, 53, from Birmingham, had stayed at the Pontins Holiday Centre in Lytham St Annes in July 2009.
Judge Anthony Russell QC told Preston Crown Court it was "a shocking and grave case".
Pontins Ltd, which has since been sold to new owners, was found guilty of two breaches of health and safety laws.
In his sentencing, Mr Justice Russell said he had been considering "a fine of £500,000 with an order that the company should pay the whole of the costs of the prosecution, which would be considerably more than the £10,000 figure given in this case".
However, he said the "unusual circumstances" of the case, which had no defendant because the original Pontins company had since been sold out of administration, meant the fine would be "a nominal one".
"If I were to impose a fine of the appropriate amount, all that would happen is that if there are any funds, the distribution to others who have suffered at the hands of this company, namely legitimate creditors, would be diminished or extinguished because any fine would go to the Exchequer," he said.
'Serious management failings'
Mrs Taylor died after staying in Chalet 229 at the holiday park with her husband - the same room where another woman had become ill earlier.
On that occasion, Margaret Coote, from Chesterfield, complained of feeling unwell two days after she used the bath in the chalet during a holiday with relatives that March.
She later spent five weeks in hospital after suffering a heart attack and symptoms associated with the disease, but has since recovered.
Mr Justice Russell said "serious management failings" were to blame for the both women's illnesses, with those responsible having "the death of Mrs Taylor on their consciences."
He said the company was "aware of the water temperature problems not only from reports but also from their own employees who expressed their concerns".
"Serious injury to health was foreseeable - the documentation and the various reports indicated an obvious risk to health which should have been acted upon," he said.
"They had the benefit of detailed risk assessments and reports from Western Environmental yet despite these, they failed to take any adequate measures to address the problems."
The Pontins Holiday Centre in Lytham St Annes closed in October 2009 and has since been demolished.
The original Pontins company which was responsible for running the camp went into administration in 2010.
It was purchased in 2011 by Britannia Hotels, which runs five Pontins camps under the original brand name and with new management.