Hopes for Blackpool trams' town centre return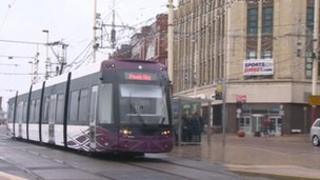 Blackpool trams could return to the town centre if buried tracks from the promenade are uncovered, Blackpool Council has said.
The council is investigating the feasibility of reinstating tramlines last used in the 60s to Blackpool North railway station.
Blackpool Transport, which operates the tramway, said it would "welcome a fully integrated transport network".
Transport Minister Norman Baker said extending the tramway "made sense".
'Aspiration of ours'
The existing tramway, which reopened on Tuesday after an £100m upgrade, runs 11 miles along the Fylde coastline from Starr Gate to Fleetwood, but there are still tramlines to the railway station under the asphalt.
Blackpool Council received funding to carry out a feasibility study into reintroducing the service to the station.
"We would like to see it see it happen - it is an aspiration of ours to continue the tramway to Blackpool North station," said a council spokesman.
The extension would complement the council's £220m Central Business District regeneration plans for the area surrounding the station.
"Providing a direct interchange would tie in with the redevelopment plans," the spokesman said.
Introducing a tram link from Starr Gate to Blackpool Airport is also being investigated.
The consultation period for the tramway extension ends on 20 April.
The £100m upgrade to the tramway, which took four years to complete, was marred by a tram coming off the track on Wednesday, less than 24 hours after the reopening with a fleet of 16 computerised trams.
Sand on the track had prevented the first service, the 5.55am tram, from operating between Fleetwood Ferry and Fisherman's Walk.