'Pendle witch's cottage' reburied to prevent damage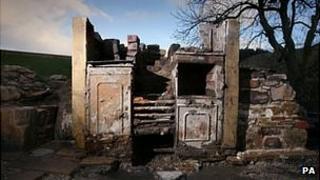 The ruin of a 17th Century cottage which was initially linked to a group of Lancashire witches has been reburied to "help to preserve it".
The building was found in 2011 by United Utilities near Pendle Hill, an area associated with witch trials.
Spokeswoman Helen Wilson said the cottage, which was "likely" to have been home to a weaver, had "suffered considerably" since being found.
She said it had been damaged by winter weather and souvenir hunters.
The cottage was uncovered by United Utilities after the company began a scheme to build a new safety wall next to Lower Black Moss reservoir.
Historians speculated that the well-preserved cottage could have belonged to one of the Pendle witches, pointing to the discovery of the bones of a cat bricked in the wall of a sealed room as evidence.
'Loosened mortar'
Ms Wilson said archaeologists brought in to investigate the ruin had "documented the building and produced their report, concluding that it was most likely weavers rather than witches who lived there".
She said the archaeological team had advised that the building was "recovered, which will help to preserve it".
"Since the ruin was uncovered, it has suffered considerably, due to winter weather which has loosened mortar and stones, and also due to souvenir hunters who have prised away parts of the ruin," she said.
Twelve people arrested in the Pendle area stood trial for murder by witchcraft during the 1612 witch trials at Lancaster and York Castles.
Ten were found guilty and hanged, one died while awaiting trial and one was found not guilty.
The trials became famous when the clerk of the court Thomas Potts published an account of what happened in a book called The Wonderfull Discoverie of Witches in the Countie of Lancaster.