Preston man jailed for Webley Revolver shooting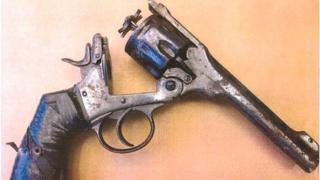 A Lancashire man who shot another man with an antique revolver has been jailed for possession of a firearm with intent to endanger life.
Daniel Nicholls, 25, of Guildford Road, Preston, was arrested in October 2011 after a 29-year-old man was shot on Skeffington Road in the city.
Forensic tests linked Nicholls with the Webley Revolver used in the attack.
Following his guilty plea, Nicholls was sentenced to 10 years 10 months at Preston Crown Court.
Webley Revolvers were the standard issue service pistol for the British armed forces from the late 19th Century until the 1960s.
The gun used by Nicholls was a Webley Mark VI, which was issued as a sidearm to British Army officers in World War One.
A police spokeswoman said the force did not know if the gun Nicholls used had been a service weapon.
Det Ch Insp Ian Dawson said Lancashire Police were "delighted with the sentence handed down by the judge".
"Nicholls is a dangerous man who did not think twice about using a gun on our streets," he said.
"I would like to commend the officers attending the scene for their prompt actions.
"Due to their work, we were able to quickly establish what had happened which has resulted in this result."
He added that while "incidents like this are rare in Preston, I hope today's outcome shows that we take cases like this very seriously".
"Even if the victim is reluctant to cooperate with the police inquiry, significant convictions and sentences can still be achieved," he said.