Spitfire memorial approved for Lytham St Annes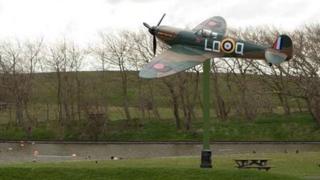 A Lancashire town's plan to build a memorial in honour of the pilots who served during World War II has been approved.
The tribute will also commemorate Lytham St Annes' campaign to raise £6,500 during the war to build a Spitfire named after the town.
The memorial will feature a full size replica of the Mark Vb Spitfire W3644.
It will be unveiled on 24 June at Fairhaven Gardens - 70 years after the original was shot down on escort duty.
The story of Lytham St Annes' war efforts had long been forgotten.
In 2008 former council leader John Coombes found a forgotten photo of the Spitfire W3644 and the story of the town's fundraising.
In 1941, after raising £6,500 - with ladies even selling their jewellery to contribute - they bought their own Spitfire under the Department for Aircraft Production's campaign to have towns contribute to the war effort.
However, the following June on a mission over France, the plane and its pilot - 20-year-old Sgt Alan Leaver-Ridings from Middleton, Greater Manchester - went missing in action.
'Educational tool'
Thanks to a three-year fundraising campaign by the Lytham St Annes Spitfire Display Team, £40,000 has been raised to build the memorial.
Mr Coombes said: "We wanted to pay tribute to the pilot and to the generosity of the people of Lytham St Annes.
"We wanted to raise the money the way people had done in 1941, from toddler to veteran donating what they can.
"We hope the memorial becomes an educational tool and a focus for schools."
Mr Coombes said he was planning to raise a further £15,000 needed to add an electronic roll of honour.
The roll will contain the names of those shot down during the Battle of Britain and those USAAF airmen lost whilst serving at nearby Warton during WWII.
Councillor Sue Fazackerley, Fylde council cabinet member for leisure and culture, said: "The volunteers have done a great job in bringing this important part of the area's history back to life.
"I'm sure that visitors will be fascinated by such a spectacle - and to learn of the role of ordinary Lytham St Annes' citizens in raising the means to fight the last World War.
"Many, of course, went to fight. Those who stayed behind raised an incredible £6,500 to buy the area's own Spitfire.
"More than the money, we remember Sergeant Allan Lever-Ridings who was killed in action flying the Spitfire. Britain may not have survived the War if it had not been for the bravery of relatively small numbers of fighting men."