Titanic's Wallace Hartley actor to play tribute gig in Colne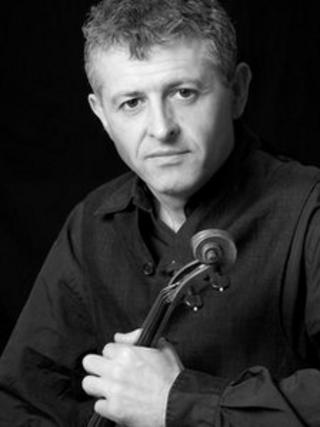 The actor who played bandmaster Wallace Hartley in the film Titanic is taking part in a memorial concert on the tragedy's 100th anniversary in Colne.
Jonathan Evans Jones, who is also a musician, will perform in Hartley's hometown with the Colne Orchestral Society at the Municipal Hall.
Hartley famously played on while the Titanic sank on 15 April 1912.
Mr Jones, a violinist like Hartley, said he will "pay musical tribute" to "the town's most famous son".
He will play two sets at the Titanic Centenary Commemoration Concert which also includes performances by Christopher Bevan and the Colne Orpheus Male Voice Choir.
Mr Jones said: "I'm paying musical tribute to Wallace by playing the style of music he played on the Titanic."
He said he had already played twice with Colne Orchestral Society, who Hartley played with as a teenager, and there was a "great depth of feeling" in the town for the bandmaster.
Mr Jones is also paying his respects to the bandmaster by laying wreaths at a Hartley memorial on Albert Road on Saturday, including a wreath from the Musicians' Union.
New memorial
The concert and memorial service are part of the Titanic Festival which marks the area's Titanic links.
Other events include a Wallace Hartley exhibition, a new Hartley memorial, and Titanic 100 - an exhibition bringing together private collections of memorabilia from the stricken ship which sank on its maiden voyage.
The Titanic Festival is being co-ordinated by Colne Library, Lancashire Museum, and Colne and Pendle Council.
It is believed the last hymn Hartley's band played as the Titanic sank was Nearer My God To Thee.
He was buried in Colne cemetery and more than 30,000 people attended his funeral.