Ireby Fell land claim villages may go to Court of Appeal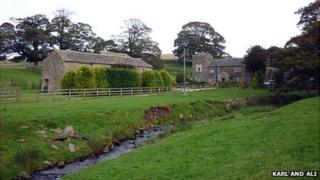 Villagers who lost the latest round of a dispute over a land owner's claim on part of Lancashire's highest moor may go to the Court of Appeal.
They contested Peter Burton's ownership of Ireby Fell, following his 2005 purchase of Ireby's Over Hall.
High Court Deputy Judge Jeremy Cousins QC said evidence showed Mr Burton and partner were "in control" of the fell.
The villagers, who are believed to have spent £650,000 on their case, said they were considering their next move.
In 2010, the Land Registry ruled Ireby's manorial title, which Mr Burton claimed, had lapsed, but confirmed the couple were the fell's "proprietors".
Mr Burton purchased the title of Lord of the Manor of Ireby for £1 after moving to Over Hall and, in 2005, registered ownership of 360 acres (145 hectares) of the fell, which overlooks the property.
Despite respecting walkers' rights of access to the fell, Mr Burton and partner Susan Bamford's ownership of the land was challenged by five local residents.
Erica and Angela Walker, Carole Scott, Edward Mills, and Christopher Balchin, all of Ireby, insisted they should not be recognised as its proprietors.
The five said Ireby Fell was common land and enlisted the help of the Order of Saint John, the modern revival of an ancient hospital order which had been granted half the manor in the 13th Century, to prove their claim.
In 2010, Land Registry deputy adjudicator Simon Brilliant ruled that while Mr Burton could not call himself "Lord of the Manor", as the title had lapsed, the effort and money which the couple had put into the land showed they had taken an "active and responsible role".
As a result, he said it would serve "no useful purpose" to overturn the title and that is was "far better that the fell should be owned than left in limbo".
Judging the villager's appeal of that ruling in the High Court, Mr Justice Cousins said there was "ample material before the deputy adjudicator which entitled him to make the findings which he did as to (Mr Burton and Ms Bamford) having taken possession".
"The evidence demonstrated that by no later than May 2007, they were in control and had taken possession of the fell," he said.
Speaking outside the hearing, Mr Walker said the challenge to the claim had "started off as a gentle thing".
"We got together to see what we could do, and the whole thing blossomed into full-scale litigation," he added.