Ironman competitor Andy Holgate couldn't swim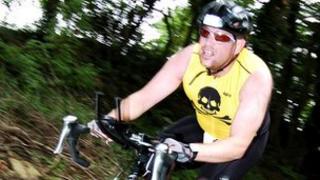 Andy Holgate is, by his own admission, not your average triathlete.
When he signed up for his first event, he was 18 stone and "couldn't swim and didn't have a bike."
"I definitely break the mould of a typical Ironman competitor," said the 39-year-old from Lancaster.
A full Ironman triathlon involves a 2.4-mile swim, a 112-mile bike ride and a full marathon completed one after the other.
Mr Holgate's interest in the event started in 2006, when a friend dared him to enter a local triathlon.
Six years later, the father-of-one has a top 10 book about his adventures, which has been nominated for a prestigious award.
'Can't Swim, Can't Ride, Can't Run' has now reached the final six in the New Writer of the Year category in the 2012 British Sports Book Awards.
After losing three stone and rigorous training, he now has three Ironman events under his belt.
'Drowning prevention'
His first Ironman distance event took place in Ross-On-Wye in Herefordshire, a week away from his wedding day.
Mr Holgate said he initially had concerns about how his partner Emma would react.
"She called it a 'nuts' idea at the time, but she was really supportive and just told me to go for it," he said.
The gruelling event turned into Mr Holgate's stag-do, with several friends taking part alongside him.
Eleven months before the race, he started swimming lessons at Lancaster University, where he works as a librarian.
"To begin with, it was drowning prevention rather than propelling myself forward."
The triathlon went well, and Mrs Holgate surprised him on their honeymoon by signing him up to an Ironman event in Germany.
Mr Holgate said triathlon is now bordering on an addiction.
"I said I would only do one to begin with, but now my wife says I get a bit grumpy if I'm not training," he said.
His weekly training regime involves four miles of swimming, running up to 30 miles and up to 200 miles on a bike.
Mr Holgate's best Ironman time is about 13 hours, with the world record standing under 8 hours.
He said it isn't about the time, it is about completing the event.
"I do it as a personal goal to challenge myself," he said.
As a means of keeping friends informed with his progress, he started up his own blog on the web.
"It started as three or four people looking at it, but then it started to get hundreds of views.
"After a while I got an email from a publisher asking if I wanted to write a book.
"I thought it was my mates winding me up, I couldn't believe it."
They gave him five weeks to write 100,000 words.
"It's now selling thousands of copies around the world, it has been in the top 10 sports books for Kindle, and it has been outselling sports stars' autobiographies.
"They have even stocked it in the library where I work."
'Glowing review'
Current European triathlon champion Alistair Brownlee gave Mr Holgate's book a "glowing review", which surprised the librarian.
"It's the equivalent of me writing a book about Sunday league football and David Beckham approaching me and saying he liked it."
Mr Holgate said a sequel is already in the planning stages, with publishers already on board.
The 2012 British Sports Book Awards take place on 21 May at The Savoy Hotel in London.