Lancaster City Museum 'ideal place' for Silverdale hoard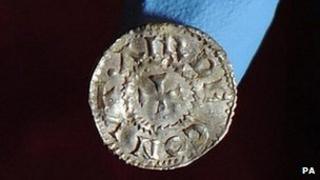 A Lancashire museum would be an "ideal place" for a hoard of Viking silver found in the county, experts say.
Gareth Williams, of the British Museum, said an assumption that large finds should go to the national museum was "an old-fashioned view".
The hoard of coins and jewellery was found near to Silverdale, in September 2011, by a metal detector enthusiast.
Mr Williams said housing it in Lancaster City Museum will help the understanding of local Viking history.
It was declared treasure by a coroner in December and is currently being valued.
Any proceeds from its sale will be divided between the metal detector who found it and the landowner.
'A fantastic acquisition'
Mr Williams said: "It's very important. It's the third largest Viking hoard found in England.
"It's a mixture of material that is familiar from other hoards and we can fit in very clearly to the picture we have of northern England in the Viking period.
"These days there's much more of an assumption that the normal place for important finds will be in regional museums.
"And as the main museum for north Lancashire I think Lancaster City Museum is an ideal place for it."
The hoard contained coins bearing the name of a previously-unknown Viking ruler of northern England.
It also includes 10 complete arm rings, two finger rings, six bossed brooch fragments, a fine wire braid and 141 fragments of chopped-up arm rings and ingots, known as hacksilver.
Sue Ashworth, collections manager at Lancashire Museums said: "We're really thrilled to have had this discovered.
"It's bigger than any other hoard we have in the collections here.
"It would be a fantastic acquisition to have."