Blackburn's £8m community fire station opens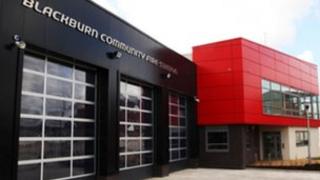 Blackburn's new £8m community fire station has officially opened.
The new building is opposite the town's former fire station on Byrom Street, which was built in the 1920s and no longer considered fit-for-purpose.
Station manager Andy Taylor said the service needed a larger building to support its community work.
He said: "The original station was built when the fire service didn't interact with the community and it really wasn't suitable anymore."
The two-storey building still houses fire-fighting equipment but also has facilities for the public, such as meeting rooms.
Peter Holland, Lancashire's chief fire officer, said it was a "truly marvellous community resource".
An open day for the public is being held on Saturday between 11:00 and 15:00 BST.