Funeral for soldier Sgt Nigel Coupe in St Annes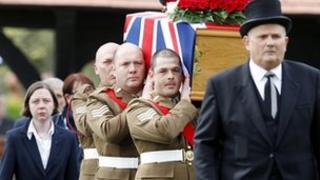 The funeral of a Lancashire soldier killed with five colleagues in a bomb attack in Afghanistan has taken place in his home town of St Annes.
Sgt Nigel Coupe, 33, had been on a patrol in an armoured fighting vehicle when it was caught in an explosion in Kandahar province on 6 March.
The father-of-two was on secondment from 1st Battalion The Duke of Lancaster's Regiment.
His widow, Natalie, said he was "the best husband and daddy ever".
Mrs Coupe held hands with their daughters, Ella, five, and Jasmine, two, as they led the procession into his funeral service at St Annes Parish Church.
Hundreds packed into the service and people lined the streets outside as the service was relayed on loudspeakers.
In a tribute from Mrs Coupe, read out to the congregation by Army chaplain the Reverend Philip Burrows, she said: "Brave and heroic, all of the tributes we have heard since his death do not even begin to describe the Nigel we all know and love so dearly. The best husband and daddy ever.
"Nigel, you really are simply the best. No words can describe how much Ella, Jasmine and I will miss you."
'Exceptionally professional'
His commanding officer, Lt Col Nick Wood, described him as "an exceptional individual".
"Not only was he a highly professional soldier, he was a diligent individual, exceptionally professional, experienced and knowledgeable about his job," he said.
"He was also a very loving family man."
Cpl Jake Hartley, 20, Pte Anthony Frampton, 20, Pte Christopher Kershaw, 19, Pte Daniel Wade, 20, and Pte Daniel Wilford, 21, also died in the explosion.
All six were serving with 3rd Battalion The Yorkshire Regiment.
Sgt Coupe joined the Army in January 1996 and was deployed in Kosovo, Iraq and Afghanistan.
He was the most senior soldier on the Warrior armoured personnel carrier when it was destroyed by an improvised explosive device.