Morecambe's Jubilee street party world record attempt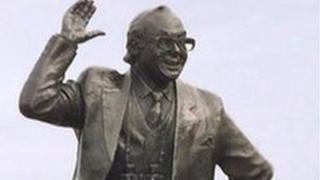 A seaside town in Lancashire is hoping to celebrate the Queen's Diamond Jubilee by breaking a world record.
Morecambe is attempting to break the record for having the longest street party which currently stands at 1.5 miles (2.4 km) set by a Devon village.
The party on 3 June is on the promenade stretching both sides of the Midland Hotel and Eric Morecambe statue.
Morecambe councillor Tricia Heath said: "It will celebrate a wonderful monarch and boost community spirit."
The party will raise money for charity.
One of the organisers, David Croxall from Morecambe Town Council, said they were expecting up to 3,000 people at the party.
He said: "It will be a really fun, vibrant event. It will bring the town to life."
The longest street party held in the UK took place in Combe Martin, Devon, on 3 June 2002.