Dog bites Pendle MP Andrew Stephenson's mother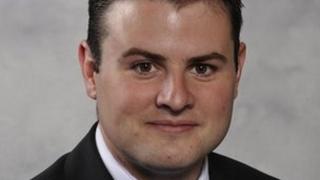 The mother of a Lancashire MP had the tip of her finger bitten off by a dog while she was out delivering election leaflets.
Ann Stephenson, the mother of Conservative MP for Pendle, Andrew Stephenson, was attacked on The Crescent in Colne on Tuesday afternoon.
The dog bite broke the bone at the end of her finger and she was taken to hospital for treatment.
Lancashire Constabulary said it was investigating the incident.
Mr Stephenson said his mother had to stay in hospital overnight and was due to undergo a skin graft on her finger before the end of the week.
He said: "I have previously called for the Dangerous Dogs Act to be re-examined to protect people who are attacked on private property, and this incident only adds weight to that.
"This is a real issue and it's not just for political activists, there are a lot of people who do door-to-door leaflet delivery, either for local charities or postal workers.
"I really think we need to look at the law and see how we can better protect people, whether it is part of their job or whether they are just going about their day to day activities."