Adam Rogers death: Campaign to tackle 'casual violence'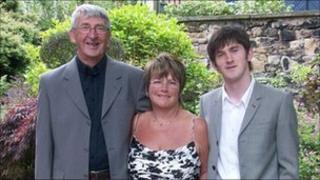 The father of Adam Rogers, killed by a single punch in Blackburn, has spoken out against the "casual approach to violence" he has seen among many young people out drinking.
The 24-year-old was on a night out in Blackburn in July 2009 when William Upton, from Rishton, punched Adam.
David Rogers and his wife Pat have started a school campaign to help tackle alcohol-fuelled violence.
DVDs featuring CCTV footage of the attack have been sent to teachers.
His parents have already taken the Every Action Has Consequences campaign to prisons to share Adam's story.
Mr Rogers said: "The problem with excessive drinking is it changes your perception of things, you don't know what is going on.
"In that state, you are vulnerable yourself and you are also a danger to other people as you are capable of doing things you wouldn't normally do."
'Incredibly powerful'
Adam and his friends were involved in a town centre altercation with another group which resulted in Upton punching Adam.
The football coach, who was acting as a peacemaker in the incident, later died from head injuries.
Upton, who was 16 at the time of the attack, served half of the four-year sentence he was ordered to serve for Adam's manslaughter.
Pat Rogers said the video footage had already caused a strong reaction from those who had seen it.
She said: The immediate impact is incredibly powerful because it's a very personal story, and it just gets through to people."