Lancashire beaches water quality 'worrying low'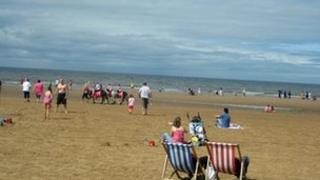 Lancashire has the worst performing beaches in the UK, according to the Good Beach Guide.
The Marine Conservation Society (MCS), who produce the guide, said "water quality still remains worryingly low" in the county.
None of Lancashire's 13 beaches tested were recommended and the water in six beaches failed to reach mandatory levels of cleanliness.
United Utilities said a £250m scheme should improve Lancashire's water.
Helen Wilson, from United Utilities, said: "A vast amount of work is being done on tackling the bathing water issue in Lancashire.
"We have formed a partnership on the Fylde coast with the Environment Agency and local councils so we can work closely together to understand where this pollution is coming from and get an action plan in place.
"Whenever you get a lot of rainfall it washes bacteria off into the sea through a number of routes.
'Donkey droppings'
"We know that sewers is one of them but the Environment Agency is also looking at other areas like livestock, water that runs off farm land and even donkey droppings and seagulls."
She added: "All these things can bring about bacteria affect the results."
The Good Beach Guide is based on tests carried out in the 2011 bathing season between May and September. The beaches which failed to reach mandatory levels of cleanliness were Blackpool Central, Blackpool South, Fleetwood, two in St Annes and Heysham.
The latest guide recommended the highest number of beaches in the guide's 25-year history with 516 out of 754 (68%) UK bathing beaches tested as having excellent water quality.
New European water quality standards, due to be enforced from 2015, are tougher for treated water.