Bradford woman 'kidnapped by family after refusing arranged marriage'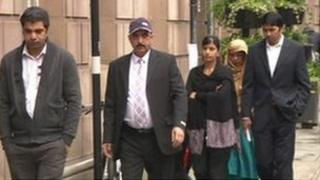 A Bradford woman was drugged and kidnapped by her family after refusing an arranged marriage, Preston Crown Court has been told.
The court heard Naila Afsar's parents, Mohammed Khan, 55, and Shamim Akhtar, 56, and brother Shamrez Khan, 32, fell out with her after she wed in secret.
It is alleged she was taken at the Accrington home of her sister Saima Mahmood, 29, and Zahid Mahmood, 34.
All five deny charges of kidnap, false imprisonment and administering a drug.
The prosecution said the family fell out with Ms Afsar, 23, after she refused to go ahead with an arranged marriage to her cousin and moved to Newcastle, marrying another man in secret.
She told the court when her family found out they did all they could to split up the couple, but Ms Afsar eventually agreed to attend a reconciliation meeting at her sister and brother-in-law's home in Accrington in January 2010.
The prosecution said it was there that she was drugged and bundled into a car, to be taken back to the family home in Bradford.
The trial continues.