Four Lancashire men jailed for harassing relative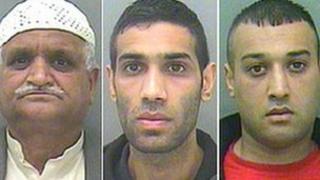 Four men from Lancashire have been jailed for harassing a family member in a three-year campaign of cruelty.
Ghalib Hussain, 27, who has learning difficulties, lived with his uncle and cousins in Accrington.
Nek Alam, 72, and his sons Zahir Alam, 33, and Zahoor Alam, 32, were sentenced to 15 months imprisonment at Burnley Crown Court.
His other son Janghir Alam, 29, was jailed for 10 months. All four men pleaded guilty.
'Left stranded'
During the trail the jury was told Mr Hussain was effectively left "stranded" at the family home when his arranged marriage collapsed following his move from Pakistan.
Mr Hussain - an epilepsy sufferer who could not read, write or speak English - was rejected by the proposed wife, the court heard.
Prosecutor Jeremy Lasker said on one occasion Mr Hussain suffered a fractured hip and on another he was said to have had a pair of jump leads attached to his nose.
When arrested and interviewed, the men denied being responsible for his injuries, which they could not explain.
Det Sgt Julie Cross said: "The victim was subjected to years of harassment and emotional abuse and has been treated in the most dreadful manner.
"To treat a family member in this way is appalling."
Mr Hussain, it was revealed in court, is no longer living with the Alams and is in the care of local authorities.