Jack Straw criticises Peel Holdings' 'subterfuge'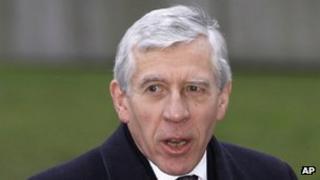 A property developer has used "legal subterfuge" to try to force through redevelopment plans for a Lancashire retail park, claims Jack Straw MP.
The Blackburn MP was leading a Commons debate on Peel Holdings' bid to sell a greater variety of goods at Whitebirk, between Blackburn and Accrington.
He said it could "undermine" government plans to rejuvenate town centres.
A Peel Holdings spokesman said it was "considering the detail of the debate" and would "comment in due course".
Whitebirk currently only has planning permission to sell white goods and furniture and is not allowed to sell items such as fashion, footwear and food, but Peel Holdings has tried to change this.
'Trivial applications'
It submitted a planning application to Hyndburn Borough Council to redevelop the site in 2005 and relaxation the restrictions on its use but this was rejected in 2007 and again in 2009 following an appeal.
Mr Straw told MPs since then Peel Holdings had submitted 29 "trivial and apparently unrelated planning applications" to the authority which were approved.
The company then appealed to the council to lift restrictions on the grounds that the recent planning approvals, when taken together, were "sufficient to liberate it from the restriction to trade in bulky goods", Mr Straw told the BBC.
This appeal was rejected by councillors on 11 April.
He added: "Peel Holdings claim that these apparently trivial planning approvals when added together give them an entitlement to change the bulky goods restrictions in the agreement.
"Hyndburn Borough Council, Blackburn and Darwen Council and I dispute that."
'£16m investment'
Mr Straw told the Commons Peel Holdings had pursued this course of action after it had successfully used a similar approach with Sunderland Borough Council.
Mr Straw warned this could damage the government's attempts to rejuvenate Britain's town centre high streets following the Mary Portas review.
He added: "Peel Holdings has made use of a legal subterfuge, which has had the effect of disguising its true intentions from local councils, verges on calculated deceit and, if allowed to continue, could seriously undermine the government's commendable efforts to revive our town and city centres."
A spokesman for Peel Holdings said it was reviewing its options but there were "no legal proceedings instigated as yet".
The spokesman said: "Peel have been seeking to invest up to £16m in a failing retail park [which] will lead to around 250 new jobs and a retail park facility which will provide a local alternative to those in Preston and Bolton.
"This, in a time of economic decline and in an area of need."
Hyndburn Borough Council was unavailable for comment.