Blackpool couple admit locking boy in coal bunker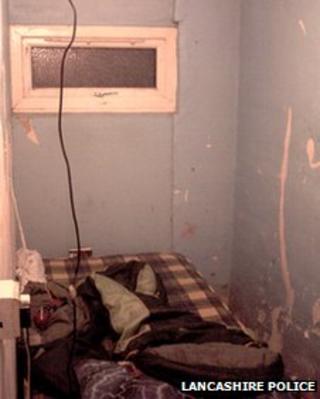 A Blackpool couple locked up an 11-year-old boy in a dirty and freezing converted coal bunker, a court heard.
Preston Crown Court was told that concerns were raised by his school as the boy - who cannot be identified - always seemed to be hungry.
The mother and her partner, both in their 40s, pleaded guilty to neglect at an earlier hearing.
Sentencing was adjourned until next Monday after the male defendant collapsed in the dock.
Jeremy Grout-Smith, prosecuting, said the boy told a social worker that his family "did not care about him".
Bullied and constantly hungry, the traumatised child was made to live and sleep in the room, described as a "cell" by social workers, and was reduced to using a potty as he was locked up each night until morning.
The room was described as "freezing" with no heating, a bare light bulb, concrete walls and floor, while the child was left to sleep on a dirty mattress.
He was put in the 6ft (1.8m) by 4ft (1.2m) room as punishment for raiding the family's fridge, the court heard
The room was an old outhouse with one exit bricked up and a new one added, leading to the lounge of the house.
'Family in crisis'
When police and social workers visited they removed the child from the room where he had lived for a year.
Doctors who examined the youngster said he was underweight and under-height for his age and treated him for anaemia.
The mother initially denied neglect but later accepted the boy's living conditions were inadequate and he should never have been locked in the room.
Wayne Jackson, defending, said the boy was "undoubtedly" a very difficult child to manage but the mother, who herself had a tough upbringing, admitted she could have done more to get help.
"We were a family in crisis who kept getting the door slammed in our face," she told probation officers.
Mr Jackson added: "Undoubtedly the boy has been traumatised and psychologically affected.
"No-one will be able to quantify the degree of that effect on him until older years to see how he turns out."