Service marks 350th anniversary of Book of Common Prayer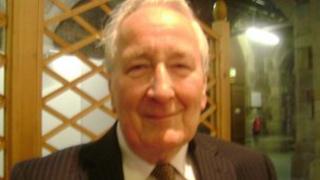 People from across Lancashire have attended a special Eucharist service to mark 350 years of the Book of Common Prayer.
The book, with some variations, is used by churches in over 50 different countries.
Over 100 members of the Blackburn Diocese Prayer Book Society gathered in Blackburn Cathedral for the service.
Their secretary, Neil Inckley, said the book "encapsulates everything the Church of England is about".
"Today is the 350th anniversary of the passing of the Act of Uniformity in 1662 which gave us the prayer book that the church has used ever since," he said.
The book remains the official prayer book of the Church of England, although an alternative book, Common Worship, is often used at Sunday services in many English parish churches.
'Dumbing down'
Mr Inckley dismissed those critics who say it is old fashioned. "It's wrong to say it is in archaic language," he said. "It is in liturgical language which passes the test of time. Whilst not poetry it is poetic prose which is easily remembered."
The Bishop of Blackburn, the Right Reverend Nicholas Reade, joined the Right Reverend Bishop Lord Hope for the service.
Bishop Hope said it was a book that has been with him all of his life.
"I grew up with it," he said. "I used to hear it Sunday after Sunday. The prayers go deep down and you don't forget them.
"Over time the prayer book, like Shakespeare, has had a huge effect on the English language itself.
"I'm currently doing the 8.30 service every Sunday morning in Gisburn and we are using the Book of Common Prayer. It is important it is not forgotten."
Of later prayer books, which are now used by Christian churches, Mr Inckley said: "The most important thing about any prayer books is that we get people using them.
"If some people do find difficulty with the Book of Common Prayer then the more modern books have a use."
Mr Inckley wants all young people to at least have the chance to experience the book.
"We do get disappointed when people disregard the Book of Common Prayer saying young people can't understand it," he said.
"When you consider the generations who have used it, and we currently have the best educated young people ever, it makes me wonder if a degree of dumbing down isn't going on."
Joe Wilson presents the faith programme on BBC Radio Lancashire from 06:00 each Sunday.