Blackpool amusement arcade sweet tin cash thief jailed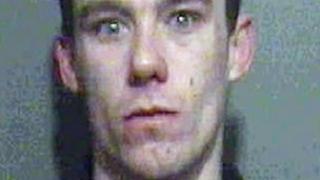 A man who stole a pensioner's savings after finding cash in a confectionery tin in a Blackpool amusement arcade has been jailed for four months.
Liam Davis, 22, of Chapel Street, Blackpool, pleaded guilty to theft and was sentenced at Lancaster Crown Court. A boy, 17, is awaiting sentencing.
The victim, aged 75, put £26,000 in a sweet tin and went to Blackpool in the hope of buying a holiday home there.
He put it on the floor in Coral Island and was distracted when it was stolen.
'Frivolous things'
Lancashire Police said a member of the public had seen two people pick the Quality Street tin up and walk off in April 2011, although it was not reported until the following day.
The two thieves later dropped the tin on the promenade, causing some of the money to blow on to the street, said police.
The pair scooped most of the money up and then made off, but some of the notes were blown away down the street.
Members of the public helped to pick the cash up, under the guidance of an off-duty police officer, which was later returned to the victim, according to police.
More money was later recovered from one of the offender's home addresses. In total £20,000 was returned to the victim, with £6,000 never recovered.
On sentencing Davis, Judge Tony Lancaster told him: "To Mr Morris this was a very significant loss.
'Blown on to prom'
"He was going to buy a home for his son and is now unable to do that."
Det Sgt Jane Atkinson said: "The pair did not initially know that the tin contained money when they stole it, but once they realised how much cash they had they did not make any effort to return it.
"We believe that some of the missing money was spent by the offenders on beer, taxis and other frivolous things.
"Fortunately the vast majority of the cash - including that which was blown on to the prom - was given back to the victim."
Ms Atkinson added: "The incident has been a significant setback for him and he has not yet realised his dream of buying a caravan."
The 17-year-old boy, who cannot be named for legal reasons, pleaded guilty at an earlier hearing.