Nelson trials Mary Portas' High Street review pilot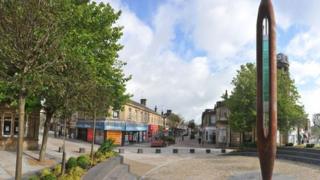 Nelson is one of 12 UK towns to receive a £100,000 government grant to take part in a pilot scheme to rejuvenate high streets.
The east Lancashire town was successful in its bid to implement recommendations by retail expert Mary Portas.
The Conservative leader of Pendle Council, Joe Cooney, said he was "over the moon" Nelson had been selected for the pilot scheme.
He put the bid's success down to its focus on young people.
'Kudos and expertise'
He said: "[The bid] focussed on our plans to tackle the numbers of empty shops in the town and involve more young people in their town centre.
"The pilot comes with £100,000 and also comes with the Portas team coming in and offering their expertise and advice.
"The kudos and expertise are worth as much as the money itself."
A young person's cafe, sports activities and an art and vintage market are some of the improvements planned for the town.
All 12 towns selected will be featured in a TV show following the progress of the Portas pilot.
The government announced in March it had accepted "virtually all" 28 recommendations made in Portas's report on how best to regenerate high streets.