Blackpool Lifeboat sees call out 'surge'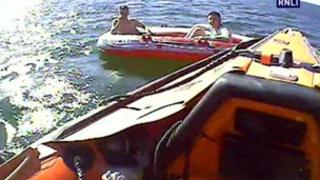 Lifeboat services in Blackpool saw a surge in call outs over the weekend as thousands flocked to the coast in the warm weather.
The lifeboat was called out five times - twice to rescue people who had got into trouble in inflatable dinghies.
An RNLI spokeswoman said it was also called to help a man who was clinging to the legs of North Pier after becoming stranded on Saturday.
He was taken to hospital with cuts and bruises but was not seriously hurt.
The lifeboat went to the aid of two small boats on the same day.
A spokesman for Liverpool Coastguard, which co-ordinates the rescues, said it had received reports of six children who had become separated from their parents on the beach on Saturday.
All of them were reunited within about 10-15 minutes, he added.
People visiting the beach are being advised to enjoy the sunshine but to be aware of the conditions and that the tides can change.
Shaun Wright, RNLI volunteer lifeboat helmsman, said: "People come to Blackpool, they don't know the tides, they don't know what an offshore wind is or an inshore wind.
"We just want people to enjoy the sun, enjoy the beach, enjoy everything in Blackpool, but just be mindful of the dangers.
"Sun, sea and alcohol doesn't mix. Sun and sea, as long as it's done in the right way, it's safe.
"If you are on the beach, be mindful of what's around you and your surroundings.
"Never go alone and always know who to contact if things go wrong."