Woman set on fire speaks out about domestic violence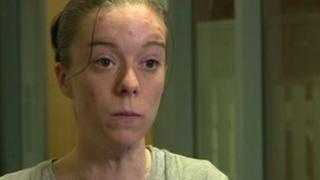 A 21-year-old woman from Darwen has said she feared she would die when her abusive partner poured lighter fluid on her and set it alight.
Belinda Fay has spoken out as part of the new Safer Lancashire campaign that encourages victims of domestic violence to report incidents to the police.
Lancashire Police said there were nearly 30,000 reports of abuse in the county last year.
Ms Fay said victims needed "to speak out and get help before it's too late".
She said her ex-partner was "controlling".
'Not alone'
"He wanted me to believe that that's how a relationship was supposed to be, because I hadn't been in a proper relationship before," she said.
"We'd have a good week and then it would carry on. It got worse and worse, sometimes (the abuse) was every day.
"There's people out there like me that will keep quiet about the abuse and put up with it and think it's right, but they need to speak out."
Ms Fay's ex-partner was subsequently jailed for three years for wounding causing grievous bodily harm.
Det Supt Ian Critchley from Lancashire Police said: "Victims of domestic abuse and their children have the right to live safely in their own home.
"They should be reassured that the abuse is not their fault and that they are not alone. There is a wide range of support available to them here in Lancashire.
"We always take positive action when we are called to deal with domestic abuse incidents and we do all we can to arrest offenders and put them before the courts.
"Domestic abuse can devastate families and relationships and all of us at Safer Lancashire are committed to providing victims with the help and support they deserve."