Lancaster gang members who ruled using 'fear' jailed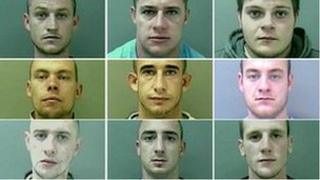 Nine members of a gang which police said ruled a Lancaster estate "through fear" have been jailed.
Gang leaders Anthony Diprose, 27, and Jason Diprose, 26, were found guilty at Preston Crown Court of fraud and supplying drugs.
Seven other members of the gang were also jailed after being convicted of charges ranging from supplying drugs to possessing a stun gun.
Supt Andrew Webster said the jailing of the men made the city a "safer place".
A Lancashire Police spokesman said the gang members were captured after a series of raids on the Ryelands estate and in the Skerton area in 2009 and 2010 after the force received intelligence about the supply of drugs.
He said the raids had also revealed that the gang had access to firearms and a variety of other weapons.
Nine jailed
Following a 13-week trial, Anthony Diprose, of Roeburn Drive, Morecambe, was convicted of conspiracy to supply cocaine, money laundering and fraud by false representation and was jailed for 16 years.
His brother, Jason Diprose, of Austwick Road, Lancaster, pleaded guilty to conspiracy to supply cannabis and cocaine and fraud by false representation and was also jailed for 16 years.
Liam Parkinson, 25, of Norfolk Street, Lancaster, pleaded guilty to conspiracy to supply cocaine, possession with intent to supply heroin and possessing an electric stun weapon and was sentenced to seven years.
Aidan Higgins, 21, of Dee Road, Lancaster; Brian Coulton, 31, of Tarnsyke Road, Lancaster; Kenneth Smith, 23, of Acre Court, Lancaster; Liam Wiper, 24, of Euston Grove, Morecambe; Andrew Gunningham, 30, of Ryelands Road, Lancaster, were all convicted of supplying cocaine.
Gunningham was jailed for seven years, Wiper for six years and nine months, Coulton for five years and Higgins and Smith for four years each.
Threlfall, of Artle Place, Lancaster, was given 18 months for conspiracy to supply class B drugs.
All were told at sentencing that they would serve half their time in prison and the other half out on licence.
Katie Noon, 25 and Paul Noon, 30, of Austwick Road, Lancaster, and Rachel Lynch, 42, and Paul Lynch, 45, of Tambrook Road, Lancaster, were also found guilty of money laundering.
'Lives blighted'
The Noons were given a six-month sentence suspended for two years and ordered to serve 50 hours of unpaid work, while the Lynchs were given a two year community order, two-year supervision order and 40 hours of unpaid work.
Speaking after sentencing, Mr Webster said "criminals who had instilled fear in our communities through their illegal activities are now behind bars, meaning the streets of Lancaster and Morecambe are a safer place".
"While out on their daily patrols, our neighbourhood officers would hear from residents about how they felt that their lives were being been blighted by the two Diprose brothers and their associates," he said.
"Many felt threatened and intimidated by the actions and activities of these individuals."