Family convicted of kidnapping woman in marriage row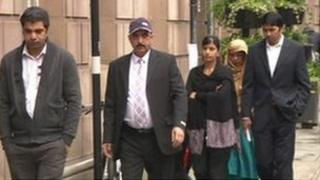 The mother, brother and brother-in-law of a Bradford woman have been convicted of drugging and kidnapping her in a row over marriage.
Naila Afsar, 23, fled her family home in 2009 to avoid being forced into marrying her cousin.
Preston Crown Court heard she married another man in secret, but when she met her family they tried to kidnap her.
Shamim Akhtar and Shamrez Khan, from Bradford and Zahid Mahmood, from Accrington, were remanded in custody.
All three are due to appear before Burnley Crown Court for sentencing on 10 July.
Mother Mrs Akhtar, 56, of Kirkwall Drive, Bradford, was found guilty of false imprisonment, kidnap and two counts of administering a drug with intent to commit an indictable offence.
Brother Shamrez Khan, 32, Moore Avenue, Bradford, and brother-in-law Zahid Mahmood, 34, of Empress Street, Accrington, pleaded guilty last week to false imprisonment, kidnap and two counts of administering a drug with intent to commit an indictable offence.
Father Mohammed Khan, 57 of Scotchman Road, Bradford, and sister Saima Mahmood, 29, of Empress Street, Accrington, were cleared of the same charges.
The court heard how Ms Afsar left her home in Bradford to avoid being forced into an arranged marriage and moved to Newcastle, where she met and married another man.
Soon afterwards, she visited her parents with her husband in the hope of a reconciliation, but were told to divorce.
In January 2010, her family contacted her and persuaded her to visit her sister and brother-in-law's home in Accrington.
Two days later, she was given a milky drink laced with a sedative, causing her to become nauseous and drowsy, and was bundled into a car with the intention of being taken back to Bradford.
Concerned for her safety, her husband called police later that day and she was found in the car at a petrol station in Rossendale.
She was taken to hospital and the defendants were arrested later that day.
Det Insp Mark Vaughton from Lancashire Constabulary said: "This has been a long and complicated enquiry which has involved a number of members of the same family.
"It has been particularly traumatic for the victim who has been forced into hiding to escape abuse from her family.
"It has been a horrendous ordeal for the young woman who has been treated in the most dreadful way by the people who were supposed to protect and care for her.
"She has shown immense courage in coming forward and officers have been supporting her throughout the investigation."
Police are urging anyone who may be suffering in similar circumstances to come forward and contact them.