Sir Elton John Blackpool gig abandoned due to weather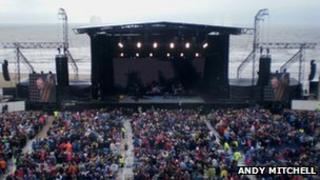 Sir Elton John had to cut short his concert at a new seafront arena in Blackpool because of the threat of strong winds.
Almost two hours into his set at the Blackpool Tower Headland arena, he told the 11,000 crowd they had to leave.
The show, which started half an hour later than scheduled due to the weather, was the first at the venue opposite Blackpool Tower.
Sir Elton apologised to the crowd and said he would "make it up" to them.
He said: "I have been told there is some really bad weather on the way, the police say you need to leave right now in an orderly fashion.
"I'm sorry but I don't want anyone to be hurt."
'Horizon disappearing'
Charles Hill from Elswick, who was at the concert, said the weather was not improving - but the audience were still enjoying it.
He said: "It was closing in, it was threatening, because you could see out to sea that the horizon was disappearing.
"All in all I think we would have stayed though, we had put up with two hours of the weather and I think there was perhaps another half an hour to go."
It was the first time the performer had played in the town for more than 20 years.