Homes evacuated as flooding affects Croston and Darwen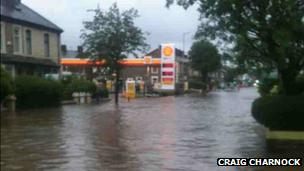 Residents in the Lancashire towns of Croston and Darwen have been evacuated from their homes after nearby rivers burst their banks.
The Environment Agency (EA) said "a month's rain" had fallen in 24 hours and scores of flood warnings have been issued for northern England.
Sandbags have been distributed in Croston after the River Yarrow burst its banks, the EA said.
Lancashire Fire and Rescue Service received over 400 calls in 12 hours.
"Croston has been cut off, the roads in and out," an EA spokeswoman said.
She said there had been reports of floods across Oldham, Wigan and near the River Darwen.
Andrew Edmundsen, landlord of the local Black Horse pub in Croston, said: "At the moment we are an island.
"All three roads that lead in are flooded. If you're in you're in, if you're out you're out."
The wet weather has affected the Preston Mela, which was due to be held in Avenham Park on Sunday, but will now take place at the Guild Hall in Preston.
John Barrowman's concert on the Tower Headland in Blackpool has also been cancelled.
Heavy rain and 50mph winds on Friday also led to the cancellation of Olympic Torch relay events in Lancashire.
The outdoor evening celebration of the lighting of the Olympic Torch cauldron due to be held at the Headlands Festival on Blackpool Promenade had to be moved to the Blackpool Tower's famous ballroom.
The Met Office has issued severe weather warnings for rain affecting North West England, East Midlands, Yorkshire and Humber, West Midlands, Northern Ireland, South West Scotland Lothian Borders, Strathclyde, Central, Tayside and Fife, and Wales.
It also warned of severe conditions for parts of Greater Manchester, Merseyside and Lancashire. Up to 50-60mm (2-2.4in) of rainfall is expected and in some places that could rise to 100mm (4in).
BBC Weather presenter Helen Willets said there had been in excess of 100mm of rain in north west England on Friday, with some "really nasty conditions" still to come.
Related Internet Links
The BBC is not responsible for the content of external sites.