Flood-hit village of Croston starts clean-up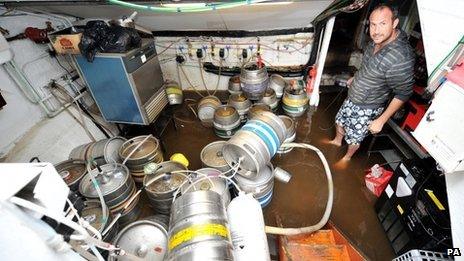 Residents in a flood-hit Lancashire village have started cleaning up the damage to their homes and businesses.
The River Yarrow burst its banks in Croston on Friday, flooding more than 70 homes and forcing residents to be evacuated.
It left the village looking like an island as the three main roads surrounding Croston were flooded.
Jon Lilley, landlord of the Wheatsheaf pub, said: "My beer is floating. My plants have floated off down the road."
He said had been forced to send his staff home early so they could escape the village before they were cut off.
The landlord, who has only been in the pub for a year and has recently refurbished it, said: "The water just kept coming closer and closer.
"We tried to wedge the doors as best we could but we lost the battle at about 2am and it came through the sandbags."
The cellar was completely flooded and the water level was about 5cm (2ins) high in the pub.
Mr Lilley and his staff are now trying to pump the water out of the cellar and clean up the rest of the pub.
James Gartside, 42, of Town Road, said: "All the water was flowing down the street and it came in through the gates and then just backed up and backed up.
"And then all of a sudden it just came in through the back. It went up to about six inches inside. This is the first time it's been this bad in about 10 years."
The Environment Agency said there had been reports of floods across Oldham, Wigan and near the River Darwen, where evacuation centres were set up.
The wet weather has affected the Preston Mela, which was due to be held in Avenham Park on Sunday but will now take place at the Guild Hall in Preston.
John Barrowman's concert on the Tower Headland in Blackpool has also been cancelled.
Heavy rain and 50mph winds on Friday also led to the cancellation of Olympic Torch relay events in Lancashire.
The outdoor evening celebration of the lighting of the Olympic Torch cauldron due to be held at the Headlands Festival on Blackpool Promenade had to be moved to the Blackpool Tower's famous ballroom.
The Met Office said the wettest places in the country on Friday were in Cumbria, Lancashire and West Yorkshire.
The Environment Agency still has flood warnings in place and more rain is expected.
Related Internet Links
The BBC is not responsible for the content of external sites.