Church of England 'homophobic', says Vicar of Lancaster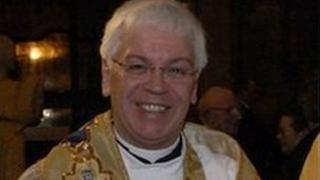 A senior Lancashire churchman has claimed the Church of England is "institutionally homophobic".
The Vicar of Lancaster, the Rev Chris Newlands, also said there was a "glass ceiling" in the church for clerics who backed same-sex marriage.
The reverend, who is in a civil partnership, said others in Blackburn Diocese and the church shared his views but were too scared to speak out.
The Bishop of Blackburn Rt Rev Nicholas Reade rejected the claims.
Rev Newlands said: "I think the church will remain homophobic, until there is no more discrimination against people.
"There is this glass ceiling. Jeffrey John is the case in point.
"He was seen as a first class candidate to be Bishop of Reading but people were very disappointed by the fact he was in favour of same-sex marriage and is in a civil partnership.
"There are bishops who say you will not get this job because you are in a civil partnership.
"People don't want to put their head over the parapet because when they do, they are put down."
'Bishop's rebuttal'
His own partner had been "accepted and affirmed" by his parishioners at St Mary's Priory, Lancaster, Rev Newlands added.
Bishop Reade said: "I do not believe that the Blackburn Diocese or the Church of England as a whole is institutionally homophobic.
"As a bishop and as a diocese we are very open when it comes to appointments and always seek to appoint on merit. We have incumbent clergy who are in civil partnerships."
He added: "We have made appointments from across the board and many have been of people with more liberal views.
"And within the Church of England as a whole many senior appointments have been made of those with liberal views on this and other topics - one recent example being that of the new Dean of St Paul's."