DNA used in Lancashire sheep rustling case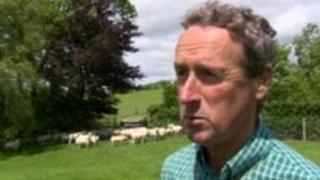 A Lancashire farmer who had his stolen sheep returned due to DNA testing hopes the science will deter sheep rustlers.
Two men are due to be sentenced at Preston Crown Court over the theft of 55 pregnant ewes, worth up to £15,000, from Robin Dean's farm in Chipping.
The sheep were found in Durham and traced back to Mr Dean's farm by forensic scientists.
It is thought to be the first time the science has been used to recover sheep.
Mr Dean said: "It's obviously another tool in the armoury that can be used to prevent [rustling].
Identification issue
"The sheep are what I need to provide my livelihood so it's not the actual value of the individual sheep, it's the fact that they are taking my ability to make a living."
Det Con Elaine Smalley, of Ribble Valley CID, said: "I think it will become very important because criminals are becoming very organised and this type of crime is on the increase."
James Hesketh, 21, of Wheatsheaf Avenue, Longridge was found guilty of handling stolen goods on 28 June.
John Kirkham, 66, of Melbourne Cottages, Preston, pleaded guilty to theft at an earlier hearing.
They are due to be sentenced in the next few weeks.