Modern Christian Art exhibition marks Preston Guild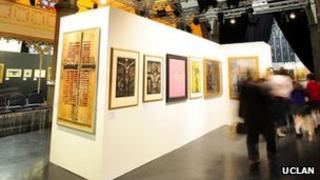 Thousands are expected to visit a world-famous religious exhibition that has opened in Lancashire as part of the Preston Guild celebrations.
The renowned Visible Faith Methodist Collection of Modern Christian Art has been assessed as only second in value to one housed by the Vatican.
Over 40 works by artists like Elizabeth Frink, Graham Sutherland and Norman Adams are contained in the exhibition
They are being shown at the University of Central Lancashire in Preston.
The university's professor of fine art, Lubaina Himid, is delighted to have such impressive works on campus.
Lasting impression
Ms Himid said: "Actually I'm almost overwhelmed because what we have here in this Methodist exhibition are some of the most prestigious British artistic paintings from the 20th Century."
Ken Whales of the Lancashire District of Methodists told BBC Radio Lancashire it had taken a long time to stage the exhibition in the county.
"We have been working on this for nearly two and a half years," he said. "It seemed an ideal contribution to put this on as part of the whole year of events that the local churches are contributing the Guild year."
The exhibition is owned by a trust body of the Methodist Church and during its stay in the Lancashire is in the custody of the Fulwood Methodists.
Their minister Peter Sheasby said the exhibition's worth is almost impossible to quantify.
"Value is always difficult," he said. "There is a monetary value to the individual pictures but I think it is the fact that we bring the collection together that gives it its importance.
"The paintings date from 1912 and they in the main tell the story of Jesus from his annunciation to Mary and going up to his death and resurrection.
"They are artistic ways of portraying those stories which we are familiar with in the bible."
One story in the bible will be recreated in paint with the help of over 40 Lancashire school parties that have booked to see the exhibition.
Resident artist Peter Bourne is painting Jesus feeding the five thousand and asking each of the children visiting his workshop to leave a lasting impression on the work.
He said: "Every child can paint their own portrait and become part of the five thousand. I'm looking forward to it and I am constantly surprised at the amount of creativity the children display."
Ken Whales believes the exhibition will have a lasting effect on those who view it.
"I think it says so much to us about what it means to be a Christian today," he said. "Looking at these pictures brings out for me the reality of life for Christ in the 21st Century."
The collection is open until Wednesday 18 July at the university's St Peter's Art Centre and admission is free.
Joe Wilson presents the faith programme on BBC Radio Lancashire from 06:00 each Sunday.