Blackburn railway station gets artwork made by homeless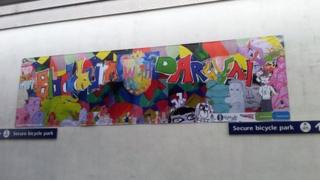 A piece of art produced by a group of homeless people has been unveiled at Blackburn railway station.
The project is a collaboration between Lancashire County Council and homeless charity Nightsafe to combat graffiti.
Community rail development officer Brian Haworth said: "Stations in this area have been plagued with graffiti so we are trying to sort of legalise it."
Artist Alastair Nicholson oversaw the artwork and said he was impressed with the final result.
Mr Nicholson said the banner between platform one and two reflects the diversity and energy of the Blackburn with Darwen community.
"I'm really chuffed with it. It is really bright and colourful and will really welcome people into Blackburn arriving at the station."
One of the artists who goes to the Nightsafe centre, which provides emergency shelter to young people, said he is proud of the finished article.
David said: "I like to draw and that's what motivated me to do it.
"It represents the people of Blackburn."
Mr Nicholson said he hopes to extend the project to brighten up other spaces around Blackburn.