Killer of nurse Jane Clough should face rape charge: Father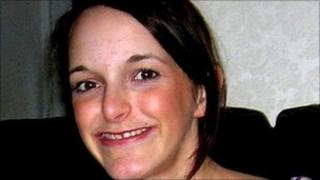 The father of a nurse murdered by her ex-partner as he awaited trial for raping her wants him to face trial for the alleged sex offence.
Jane Clough was stabbed 71 times in 2010 by Jonathan Vass while on bail. Vass admitted her murder and jailed for life with a minimum term of 30 years.
John Clough said his daughter, of Blackpool, was "denied justice" while the rape charges lay on file.
Cases of rape linked to murder will now be prosecuted after a change in policy.
'Big step forward'
The change in policy in England and Wales is being announced by Keir Starmer, Director of Public Prosecutions (DPP), following a meeting with Jane's parents John and Penny Clough.
Mr Clough described the news as a "big step forward" but said the family would continue fighting for Vass's prosecution for sex assault charges Ms Clough was bringing when she was stabbed to death outside Blackpool Victoria Hospital.
He said: "We are hopeful the charges against Jonathan Vass are resurrected. To this day Jane has not had justice for those charges she brought.
"It is important to us that he is tried for those charges that he committed against Jane."
Mr Clough said: "Should a conviction follow that, if he was released from prison he would have to sign the sex offenders register; he'd be treated differently in prison and he would be managed differently as a prisoner."
He said the thought of Vass's release from prison "horrifies" him, particularly as Vass has no convictions for sexual offences.
Victims' commissioner
Mr Clough said: "Currently, because he has no convictions of a sexual nature he wouldn't have to sign the sex offenders list and potentially he could be out by 60; he is a fit person and could still be a danger to women."
As well as continuing campaigning for rape charges to be brought against Vass, the family will fight to bring in accountability for judges.
"We need people to look at how this can be achieved and potentially bring back a victims' commissioner," said Mr Clough.
The family have also prompted changes to bail laws allowing prosecutors to appeal against a Crown court judge's bail ruling at the High Court.
Previously the Crown Prosecution Service (CPS) had no right to appeal against Crown court bail decisions.
The law change is due to take effect in autumn and will bring Crown courts in line with magistrates' courts where appeals against bail decisions are allowed.
Ms Clough's parents have said they believe their daughter would still be alive if the CPS had had the right to challenge bail decisions.