Avocets flourish at RSPB Leighton Moss nature reserve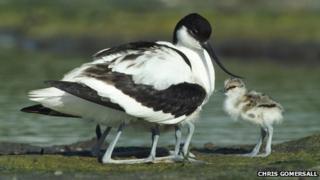 A Lancashire nature reserve has seen "many hours of monitoring" pay off with the fledging of almost four times their record number of avocets.
The RSPB's Leighton Moss, near Carnforth, has seen 40 chicks flying the nest, 29 more than the reserve's previous record of 11, set in 2005.
Site manager Robin Horner said the success of the birds' breeding "has been phenomenal".
"We never anticipated they would spread this far north," he said.
The wading birds, which are the emblem of the bird protection charity, arrive annually at the reserve in March to breed.
They were extinct as breeding birds in the UK by the mid 1840s, but returned after the flooding of East Anglian coastal marshes in World War II.
'Checking water levels'
Mr Horner said the bird represented "one of our greatest conservation success stories".
He said the bird had been "thriving in the South for a number of decades, but we never anticipated they would spread this far north".
"They have had mixed breeding success here, but this year, the number of young leaving the nest has been phenomenal.
"It would now be great if we could create more places for avocets to nest around Morecambe Bay to secure even greater success in the future."
RSPB volunteer Vanessa Berrie said the weather had "not been on our side this summer" and staff had "put in a lot of time and effort checking water levels and providing their ideal breeding habitat, as well as many hours monitoring their progress".
"I am so pleased with how well the avocets have done this year," she said.