Blackpool Zoo welcomes pack of Iberian wolves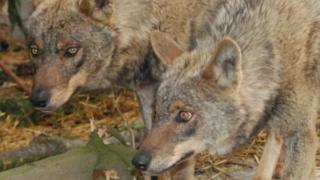 Blackpool Zoo's new £500,000 enclosure has become home to four Iberian wolves.
The animals, which are called Diago, Dora, Reina and Diamante, are the first wolf species to be housed at the zoo.
The youngest pair, Reina and Diamante, were named in honour of the Queen's Diamond Jubilee.
Della Belk, from the zoo, said wolves were the animal most visitors said they would like to see. "We also had a large area of woodland, so it made sense to get the wolves," she said.
Reina, which is Spanish for queen, and Diamante, which means diamond, can be seen, along with their parents, from an elevated walkway that has been built to overlook a large paddock and wolf den.