Open Championship Lytham: AA takes over traffic from police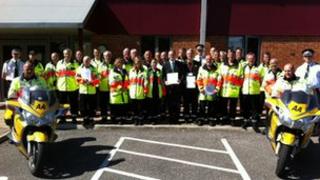 The AA taking charge of traffic during the golf Open Championship shows "traditional duties being eroded", says Lancashire Police Federation.
Lancashire Police has given powers to the AA to manage traffic and take details of traffic offences and anti-social behaviour at the event.
It is the first time the group has been in control of Open traffic around the Royal Lytham and St Annes club.
Ch Supt Bill McMahon said it freed officers to do "core duties".
A team of trained staff from the motoring association has been accredited by Lancashire Police to oversee traffic.
'Traditional duties'
The team has the power to stop people and get their name and address if they believe they are committing a traffic offence or acting in an anti-social behaviour.
The Open organiser R & A, golf's governing body, funds the service.
Rachel Baines, chairman of Lancashire Police Federation, said: "It is a sign of the times unfortunately... traditional duties of the police officers are being eroded.
"There simply isn't the same number of officers as there was over 10 years ago and it is now up to the organisers of pre-planned events to manage traffic," she said.
Mr McMahon said there would still be a "highly-visible police presence" at the event.
"The main aim of our policing operation is to ensure the safety of those playing, working at or visiting the event as well as those who live and work in the area," he said.
Mick Easom, from the motoring association, said the group was pleased to provide a service which enabled police to redirect their resources to their day-to-day duties.
He said: "Our primary role during the Open will be to assist with the direction and flow of the traffic travelling to and from the event, enabling spectators to get there as quickly and as safely as possible and also allowing local road users to move about the area."
'Residents inconvenienced'
Fylde Borough Council has received complaints from some residents about parking restrictions and an increase in traffic during the duration of the Open.
The four-day championship is expected to attract 200,000 visitors to the Fylde coast. Visitors started arriving for the start of the practice rounds on Saturday. More than 33,000 people have attended practice rounds.
The 2012 Open Championship has been staged at the Royal Lytham & St Annes course 11 times with the last Open staged in 2001.