Drugs warning after Blackburn teenager killed father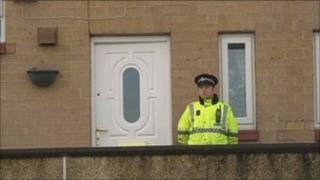 A judge has warned of the "disastrous effects" of drugs, while sentencing a teenager who stabbed his father to death and attacked his mother.
Jordan Ryan, 19, from Blackburn, who has paranoid schizophrenia, admitted manslaughter on the grounds of diminished responsibility.
His cannabis and mephedrone use "contributed" to his illness, Preston Crown Court was told.
He was made the subject of an indefinite hospital order.
Judge Anthony Russell QC said it was "one of the saddest cases" he had presided over in his six-and-a-half years at the court.
He paid tribute to the Ryan family's "dignity, fortitude and courage" after they stated they wished for Jordan to return home when he is no longer judged to be a risk to the public.
Judge Russell said: "It appears that your symptoms became apparent after you had been smoking cannabis and taking bubble [mephedrone].
'Violent videos'
"Anyone who thinks drugs are harmless should reflect upon the disastrous effects on you.
"The viewing of violent video games and videos have also been partially to blame, exacerbating the underlying illness."
The court heard Ryan knifed his father Neil, 46, last October as he slept at their home in Heys Close.
His mother Debbie, 41, survived the attack and escaped with two superficial wounds. She was in court to support her son.
The Crown Prosecution Service accepted his plea because of his medical condition and successfully applied for a charge of attempted murder on Mrs Ryan to lie on file.