Oswaldtwistle fly infestation tackled by Environment Agency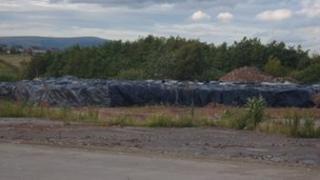 Seventy people have complained to the Environment Agency about swarms of flies in a Lancashire town.
Hyndburn Council said the flies appear to have been attracted to waste at the site of a former chemical factory in the Nook Lane area of Oswaldtwistle.
Residents and businesses said their lives had been affected, particularly by the flies swarming around food.
The Environment Agency said pest controllers from the companies involved were working to resolve the situation.
Landlord of the Stanhill Inn Ian Wright said his business and family life was suffering as a result of the infestation.
Insecticide sprayed
He said: "On Fridays, Saturdays and Sundays we've got a really good local trade for food, but last weekend it just died a death.
"It's even got now to where me and my partner can't even eat our food because as soon as you sit down, there are just swarms of flies around the food."
Deputy leader of Hyndburn Council Claire Prichard said the council met the Environment Agency on Monday to discuss the problem.
She said the owner of the land was aware of the situation.
She said: "We believe that the site is being sprayed down with insecticide now twice a day and we are awaiting an update from the Environment Agency."
A spokesman for the Environment Agency said: "We have received around 70 complaints from local people affected by a site in Oswaldtwistle due to flies, where waste is being stored.
"This is unpleasant for local people and has caused disruption to local businesses, which is not acceptable.
"We understand pest controllers from the companies involved are working on the site today and everyday until the situation is resolved.
"We are currently investigating the enforcement options available with the Local Authority and are closely monitoring the situation."