Greater Manchester councils join in Royal Fusiliers fight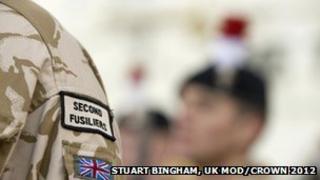 Greater Manchester's 10 councils have united to urge the government to save the Second Battalion, the Royal Regiment of Fusiliers.
The battalion, which recruits from Greater Manchester, is to be disbanded in 2014 as part of Army cuts.
The Association of Greater Manchester Authorities (Agma) members voted to back the campaign to keep the regiment.
Defence Secretary Philip Hammond has said the Army would be a "forward-looking, modern fighting machine".
'Heroes of conflicts'
Ministers are proposing to cut Army personnel from 102,000 to 82,000 following previous overspends on defence.
The restructuring was drawn up under a plan by Lt Gen Nick Carter called Army 2020.
Agma chair Lord Peter Smith said: "[It] will decimate a proud battalion of men that has seen the loyal service of Greater Manchester soldiers who have trained hard to become the incredibly well-trained and disciplined heroes of conflicts around the world."
Leader of Bury Council Mike Connolly, who has been appointed by Agma as its champion for the Fusiliers campaign, said closing the regiment was an "insult" to Greater Manchester Fusiliers.
He said: "The decision to scatter these loyal soldiers is utterly unfair as these men have pledged their unquestionable allegiance to their regiment, who will now be unceremoniously deployed across the army into less successful battalions than their own."
Four infantry battalions are to close under the savings: the 2nd Battalion the Yorkshire Regiment (Green Howards); the 3rd Battalion the Mercian Regiment; and the 2nd Battalion the Royal Welsh; as well as the 2nd Battalion the Royal Regiment of Fusiliers.
The Royal Fusiliers has served in every major campaign since 1674, including Iraq and Afghanistan.